Rare Beanie Babies Are Sold For Hundreds of Thousands of Dollars
The 20 Beanie Babies You Still Have That Will Make You Rich
We hope you kept them!
If you, like me, collected worthless Tamagotchis and Spice Girls lollipops as a kid, too bad. If you, unlike me, collected Beanie Babies and kept them in pristine condition (little heart-shaped tags still attached; inside tiny clear plastic boxes where dirt and annoying little brothers couldn't reach them), then you could be sitting on a winning lottery ticket. Congrats! Here are some of the priciest collectible Beanie Babies on the market (read: eBay) right now to help you get started on your new lucrative Beanie Baby reselling empire.
'90s babies, your day has finally come.
After collecting and hoarding Beanie Babies for the past 20 years — or letting them collect dust in the back of your closet — those plush, pellet-stuffed dolls may be worth more than sentimental value. At least some online sellers are hoping that's the case.
One seller on Ebay is requesting $100,000 for an eight-doll collection of "rare, retired special-edition bears in perfect condition."
Or, if you're a collector with a bit more money to spend, another seller is requesting $652,000 for two "ghost version" Princess Diana Beanie Babies. Meanwhile, one person is offering the Princess Di doll for just $0.99 — as long as you fork over $375,000 for shipping.
At the time of publication, however, none of these sellers have attracted serious bids for their Babies. They did not immediately respond to requests for comment.
In the mid-'90s, when the Beanie Babies fad reached its zenith, the plush toys were loved by children and middle-aged hobbyists alike. They enjoyed a pre-social media virality, aided by manufacturer TY Inc.'s careful advertising, which promoted a sense of limited stock and imminent discontinuation. TY did not immediately respond to a request for comment.
Collectors have been led on about the eventual value of the dolls for years. Although most retailed for $4.99, it was promised that their value would increase exponentially from decade to decade. Scholastic even released a Beanie Baby Handbook in 1998, which compared the sticker price of each doll upon initial release with the going rate in 1998 and the estimated value in 2008.
"Basically, if you can afford to do this, simply putting away five or 10 of each and every new Beanie Baby in super mint condition isn't a bad idea," the book said.
If you're thinking about shelling out hundreds of thousands of dollars for a Beanie Baby collection, or you're just unwilling to part with your own painstakingly curated collection, they can still provide hours of mindless entertainment. At the very least, you can produce a sequel to 2012's Beanie Babies adaptation of The Hunger Games.
"Large" Wallace and his Squad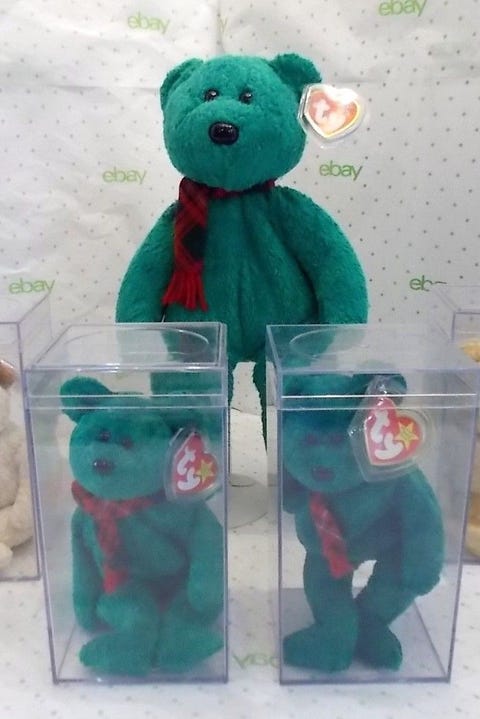 This rare large-sized "Wallace" and his friends, two regular-sized(?) Wallaces and Cashew and Huggy will set an extremely enthusiastic collector back nearly $1M. Think of how many new friends you could buy.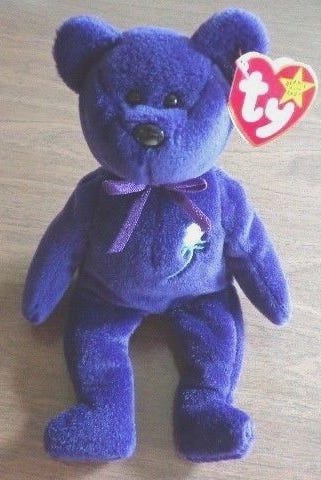 The 1997 Princess Bear was dedicated to Princess Diana. And according this lucky, about-to-be-rich eBay seller she's "undoubtedly the RAREST of all Beanies and Princess Bears!" Cool!
3
"Large" Ariel and 9″ friends, Issy, Ariel, and Peanut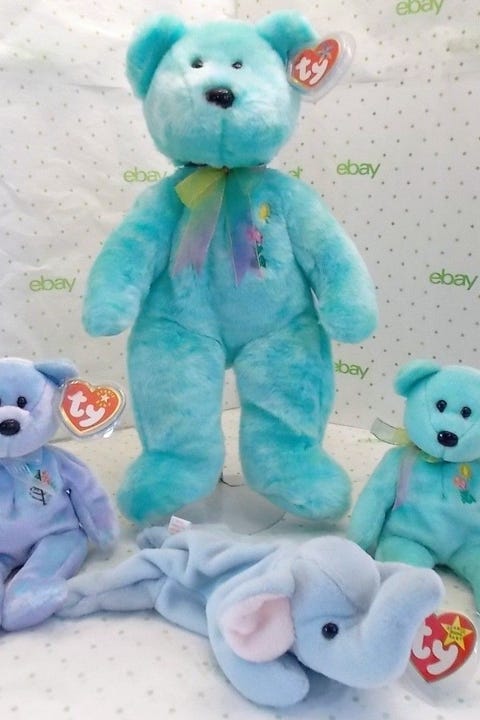 Ariel was reportedly introduced in 2000 as a tribute to a 7-year-old child who passed away following complications from AIDS. This large and regular-sized Ariel pair, along with Issy and Peanut, is up for eBay grabs for over half a million dollars.
4
15-inch Peace bear and 9-inch Peace, Ringo and Bones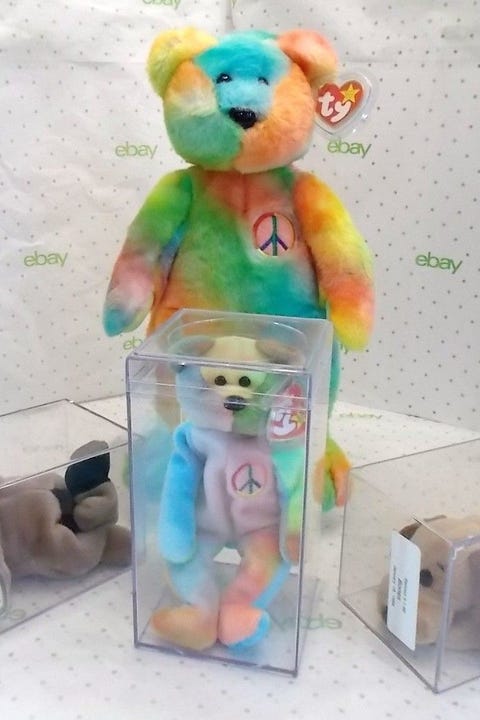 This extra-large psychedelic Peace beanie baby will deliver good vibes if you manage to sell him and his friends for the going rate of over $300,000.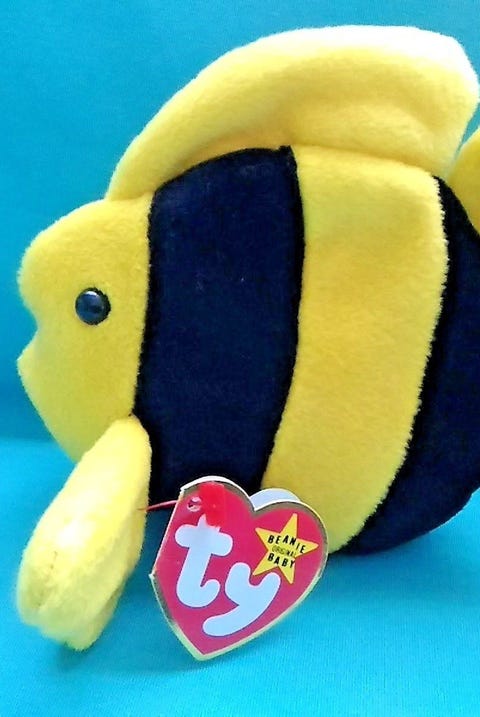 Is there a cuter name than Bubbles? There is not. Is there anything cuter than earning over $100,000 — which is how much this guy is going for on eBay — for a retired stuffed fish? There is not.
This Hippity is going for roughly a year of college tuition. Here is a video of how to appraise YOUR Hippity, which I'm sure is totally, (probably?) helpful if you watch it.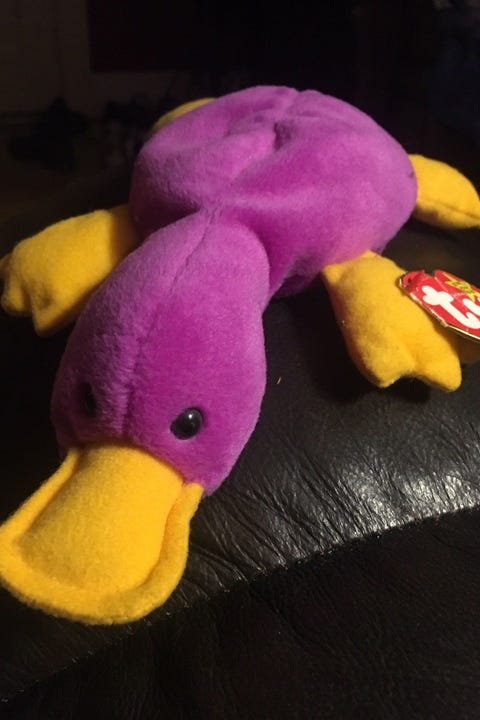 Apparently, magenta-colored Pattis are the most sought-after Patti because magenta is the first color she/he/it ever appeared in. The other colors are fuchsia, maroon, and raspberry, which look exactly like magenta.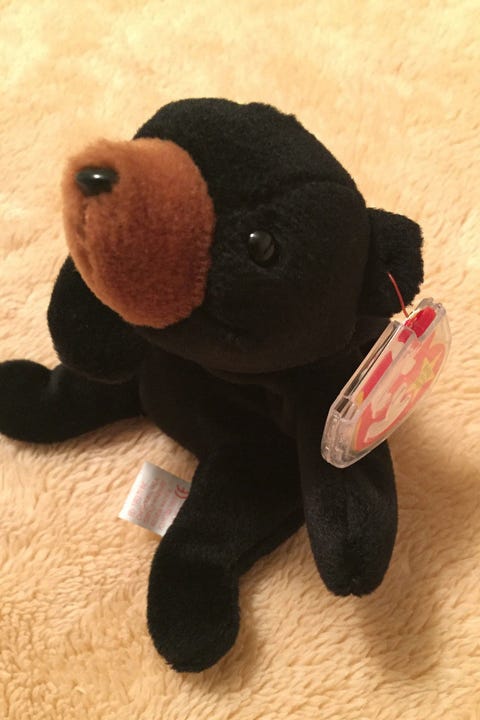 This is one of those Beanie Babies whose value depends on what "generation" it's from. So good luck with that.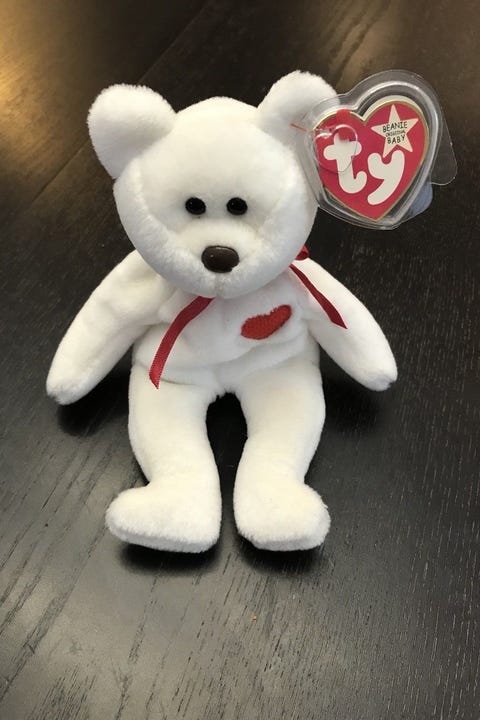 The most expensive Valentino bears are the rare ones with the misspelled tags. Thanks for nothing, spell-check!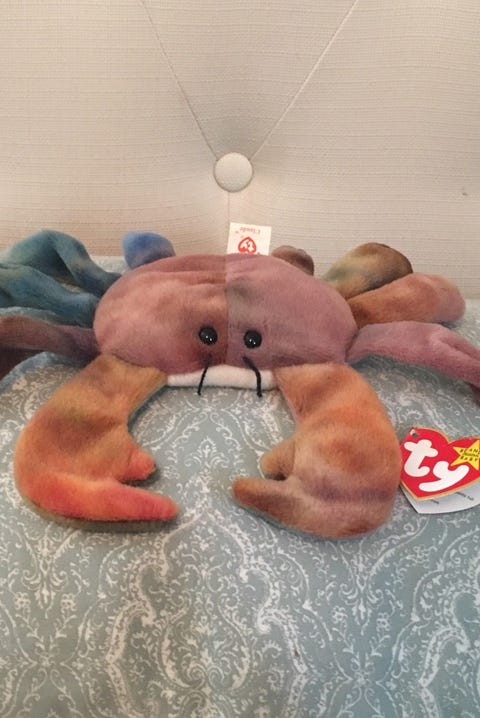 The only Beanie Baby reportedly with a poem dedicated to his name: "Claude the crab paints by the sea; A famous artist he hopes to be; But the tide came in and his paints fell; Now his art is on his shell!" Priceless, no?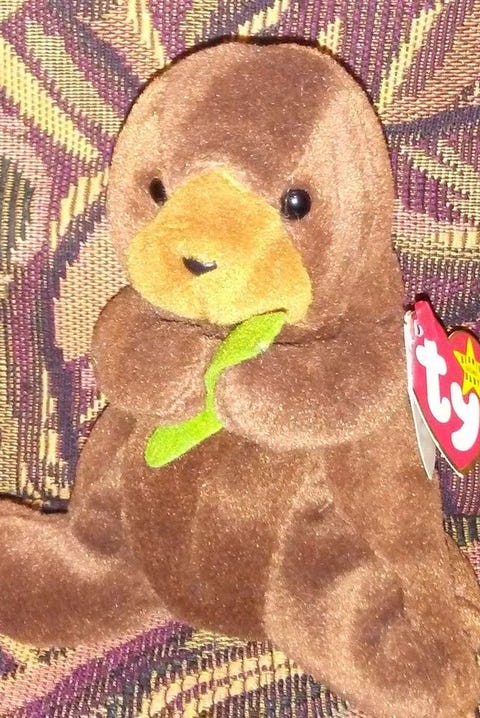 Looks more like edamame, but OK.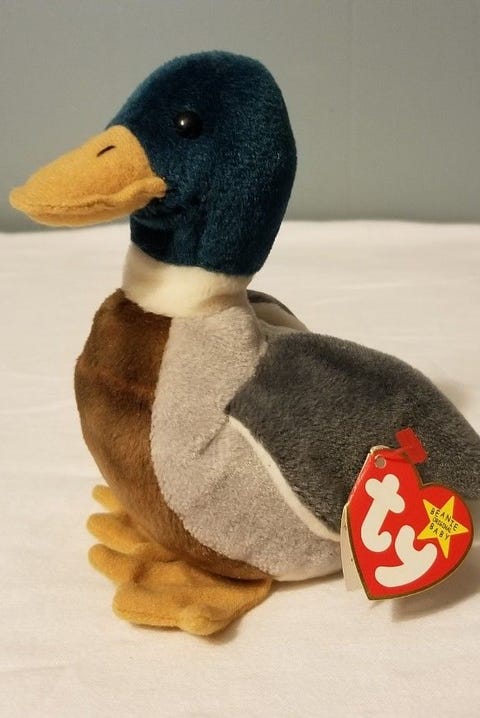 Have you ever met a more potentially valuable Jake?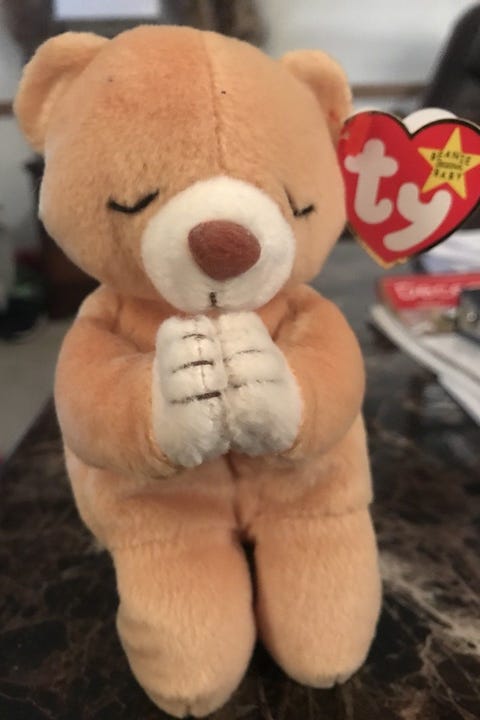 This praying bear is set at a pretty high price on eBay right now.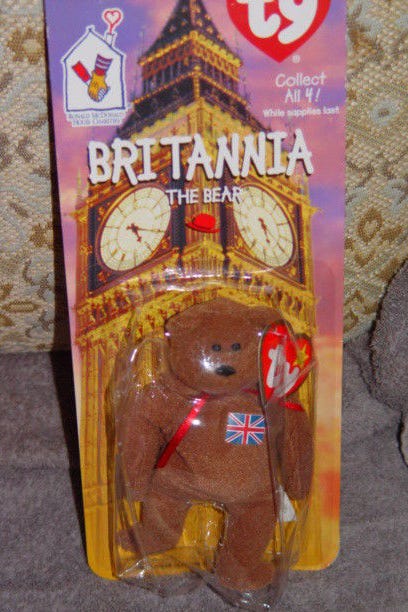 All hail the bear, etc. etc.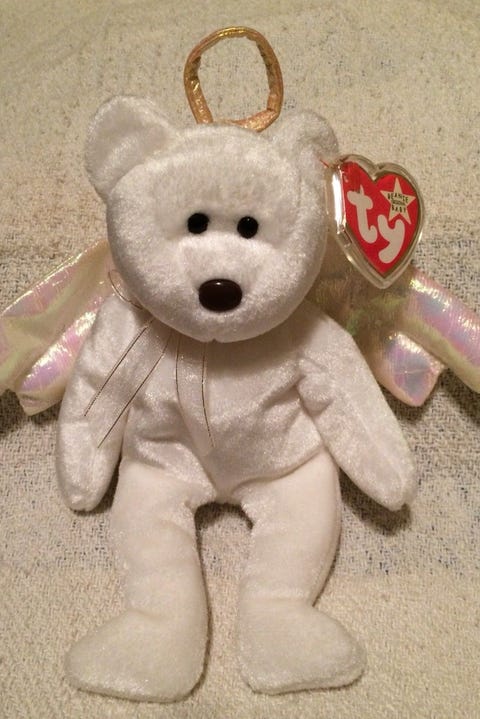 If you have a Halo bear like this one, which has "a rare white star instead of the yellow star!" then maybe you can earn $13,500 too. If not, you can keep him around as a reminder that "Halo" is Beyoncé's best ballad.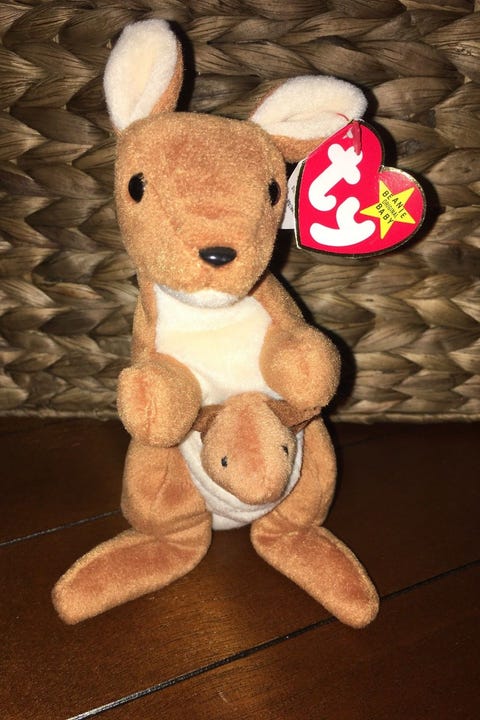 A good chunk of your student loan bill could be in that pouch.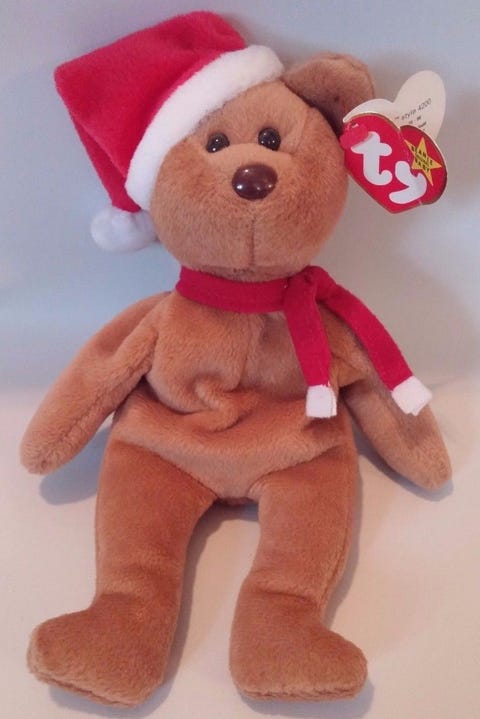 I'm sure the reason this cutie is going for $10,000 right now isn't because of it reminds me of Rooney Mara in Carol but I'll believe what I want, okay?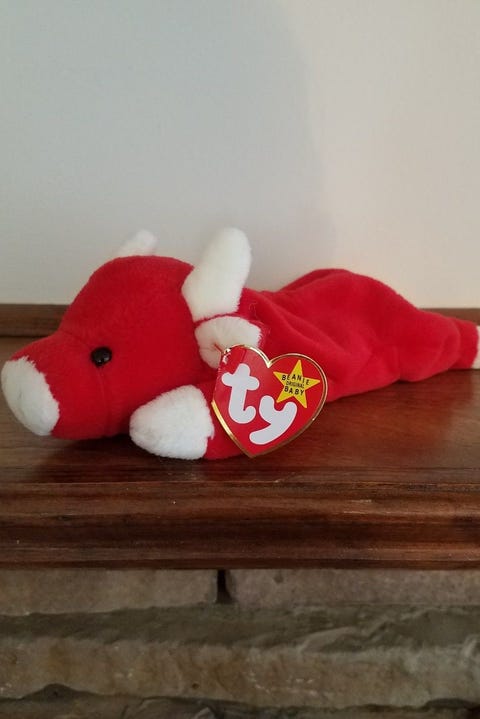 This red bull will, wait for it, give you wings (as in, plane tickets; or maybe a jet pack?) if you can sell him for a couple thousand dollars like this one.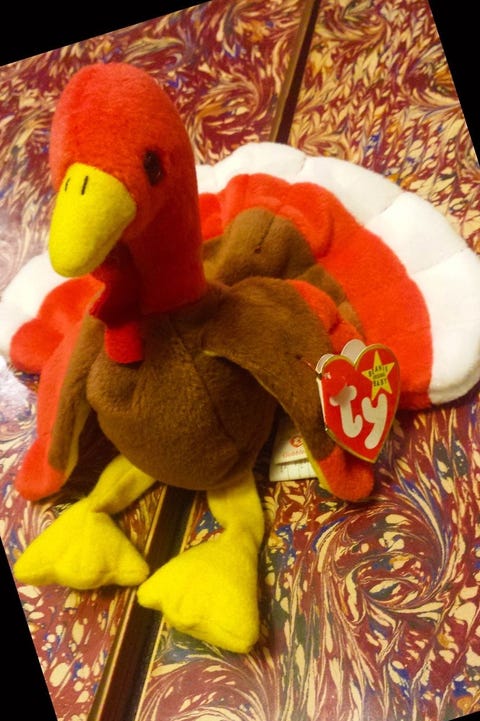 Have a happy Thanksgiving by selling Gobbles and booking a nice beach vacay instead of a turkey dinner.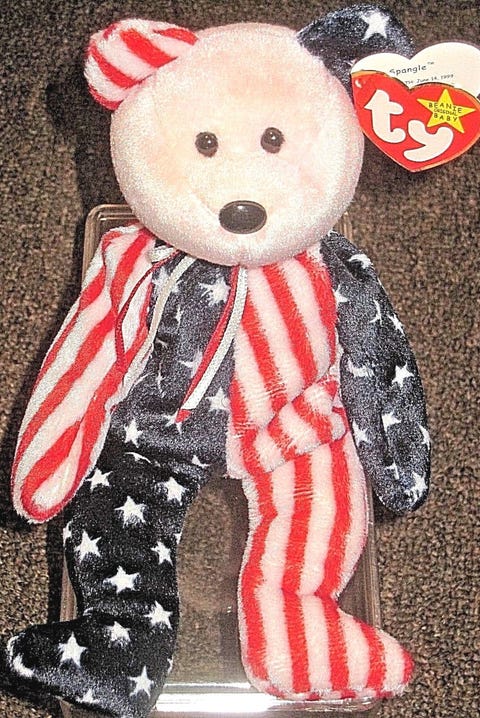 The American My dream is selling this guy for over a thousand dollars and going shopping.